Dandeli is a small town in the Uttara Kannada district of Karnataka. Surrounded by the thick deciduous forests of the Western Ghats, Dandeli is known as the adventure sport location of South India.
Known as the state's educational and industrial center, this place is known for the manufacture of paper and several paper mills (West Coast Paper Mills) that cover the entire Dandeli area. Dandeli is also a major tourist destination as it is one of the most famous white water rafting sites in India.
The story related to his name is believed to be that Dandeli is in the same place where the mythical Dandakaranya was and because of which he was given the name Dandeli. The place is also believed to take its name from Dandelappa, a local goddess who was the maid of the Mirashi zamindars. If folklore is to be believed, a king named Dandakanayak praised the beauty of these forests and gave them his name.
What's famous about Dandeli?
Tourists Come to Dandeli Wildlife Sanctuary Dandeli is the second largest nature reserve in Karnataka. The Dandeli Wildlife Sanctuary was declared a Tiger Reserve in 2007. The tributaries of the Kali River, Kaneri River, and Nagjhari River flow through the dense deciduous forests of the Dandeli Wildlife Sanctuary.
The sanctuary is a natural habitat for over 300 species of birds as well as many creeping creatures and various wildlife species such as amphibians and cheetahs, leopards, black leopards, elephants, gaur, barasingha, bears, wills, wild ricks, wolves and langurs.
Kayaking, canoeing, rafting in Dandeli, and night rafting and canoeing on the Kali River, and adventure sports such as cycling and mountain biking. The place also offers tourists the chance to see crocodiles, take a nature walk, go hiking, bird watching and fishing.
Some tourist places in Dandeli
This place is well-known for its famous historical places and religious sites like Ulavi Temple, Sky Point, Soupa Hydroelectric Dam, Kavala Caves and Synthari Stones. Dandeli sits on the banks of the Kali River at an average elevation of 1,551 feet above sea level against the backdrop of the Western Ghats.
Kali River
Tourists visiting the town of Dandeli are recommended to visit the Kali River, also known as the Kalindi. This river comes from a small Diggi village which is a home to about 4 lakh people. A number of dams to generate electricity have been built on the Kali River. The Soupa Dam in Ganeshgudi is the most important of the dams built on this river. Tourists can go boating here in buffalo leather and bamboo boats.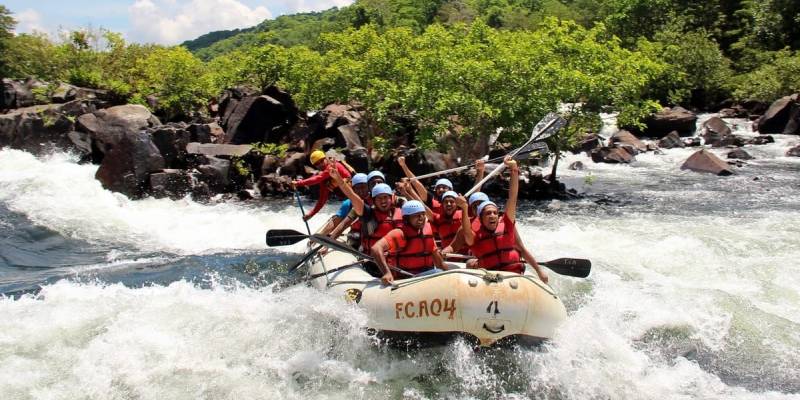 Tourists can also spot birds such as the weaver bird, heron, and magpie kingfisher upon arrival. Tourists traveling the 184 km long Kali River can also see Fort Sadashivgarh near the river bridge. This fortress was built at the confluence of the river and the Arabian Sea. The bridge crosses National Highway 17, which connects Goa with Karnataka. Tourists can access this river from October to March as they can enjoy white water rafting in the river during this time.
Dandeli Wildlife Sanctuary
Tourists visiting Dandeli must visit the Dandeli Wildlife Sanctuary, which is one of the main attractions in the city. One selected forest area was classified as the Dandeli Wildlife Sanctuary on May 10, 1956 and declared a Dandeli Anshi Tiger Reserve in 2006. Upon reaching this reserve, tourists have the opportunity to see steep climbs, deep valleys, and hilly forest areas.
The sanctuary extends over an area of ​​834.16 km2 and is at an altitude of 100 to 970 meters. The sanctuary is home to many unique and rare species such as the black form. Tourists can spot wildlife such as barking deer, bulls, spotted deer, as well as birds such as yellow-legged pigeons, great-billed hornbills, short-toed eagles and peacocks.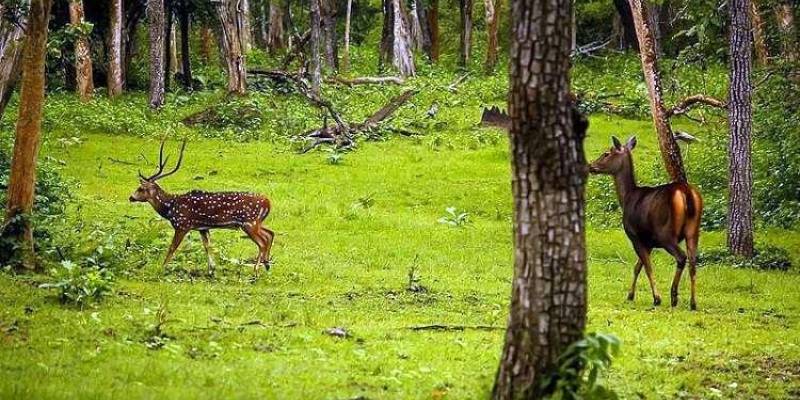 Almost 200 species of birds can be found here, including the Ashie Swallow Shriek, Drango, Brahmini Bite, Malabar Hornbill, and Minivet. Tourists can also hike or canoe in the sanctuary's forest. The best time to visit the sanctuary is between October and June.
Tourists can tour the sanctuary by open jeep with the help of qualified guides. If you have more time in hand, you should also visit Anshi National Park near the Dandeli Wildlife Sanctuary.
Shiroli Peak
Travelers visiting Dandeli can also visit Shiroli Peak. This peak is located in the Dandeli Wildlife Sanctuary, 25 km from Dandeli. Upon reaching Shiroli Peak, travelers can have a spectacular view of the Sahyadri hills. Being the highest hill in the Uttara Kannada region, Shiroli Peak is popular as an easy trek.
This peak is also called the Sunset View Point from where tourists can see the Dandeli Wildlife Sanctuary and the Western Ghats. Tourists can enter this area only after the permission of the Forest Department.
Dandeli Weather
The time between October to May is considered to be the best for visiting Dandeli as the weather is very pleasant during this time. The time between December and May is ideal for wandering, October and November for bird watching, March to May are ideal for water sports.
Summer
The summers in Dandeli are mildly warm and pleasant and the daytime temperature does not go above 33 ° C. Tourists like to come here in the summer due to the pleasant weather.
Monsoon
Dandeli receives heavy rainfall during the monsoon. People are reluctant to visit Dandeli during the monsoon as it is not possible to roam and enjoy outdoor activities due to heavy rains.
Winters
Dandeli weather becomes pleasant and comfortable during winters as the average temperature is 26 degrees Celsius. The winter season is the best for visiting Dandeli and tourists come here in large numbers in winter to see this beautiful place.
Resorts in Dandeli
If you are planning to visit, you can check this list of resorts in Dandeli which can help you out to find a place to stay during your visit.
Dandeli Resort
Contact: +91 88 6746 6696
Address: K.C.Circle (Kittur Chennamma Circle) Haliyal, Dandeli, Karnataka 581325
Google Rating: 4.1 (1.2k Reviews)
Kali Adventure Camp
Contact: +91 88 6746 6696
Address: K.C.Circle (Kittur Chennamma Circle) Haliyal, Dandeli, Karnataka 581325
Google Rating: 4.1 (1.2k Reviews)
Magenta Resort Dandeli
Contact: +91 73 3866 0808
Address: Bada Kanshirada, Road, Kogilban, Dandeli, Karnataka 581325
Google Rating: 4.5 (2.4k Reviews)
Dandeli Jungle Resort
Contact: +919591882608
Address: SH 46, Old Dandeli, Dandeli, Karnataka 581325
Google Rating: 4.8 (62 Reviews)
Whistling Woodzs - Jungle Resort
Contact: +91 83 8325 6666
Address: Village Badgund, Ganeshgudi Uttar Karnataka Dist, Dandeli, Karnataka, 581365
Google Rating: 4.2 (664 Review)
How to reach Dandeli
By Air
Belgaum Airport, 90 km away, is the closest inter-state airport to Dandeli. The closest international airport to Dandeli is Bangalore International Airport, 481 km from Dandeli. It is the best option for tourists from Asia, America, Europe and the Middle East.
By Rail
There are no regular trains from other major cities in the country to Dandeli. The nearest train station is in Dharwad, 46 km away.
By Road
KSRTC (Karnataka State Road Transport Corporation) buses run regularly to Dandeli from places like Alnavar (35 km), Dharwad (55 km), Hubli (72 km), Belgaum (90 km) and Bangalore (480 km). . Tourists can also travel by luxury bus from Bangalore.